Visualize your Tinder data
Upload your data anonymously and compare it to demographics from around the world!
Rated 5 stars
by over
1200 beta users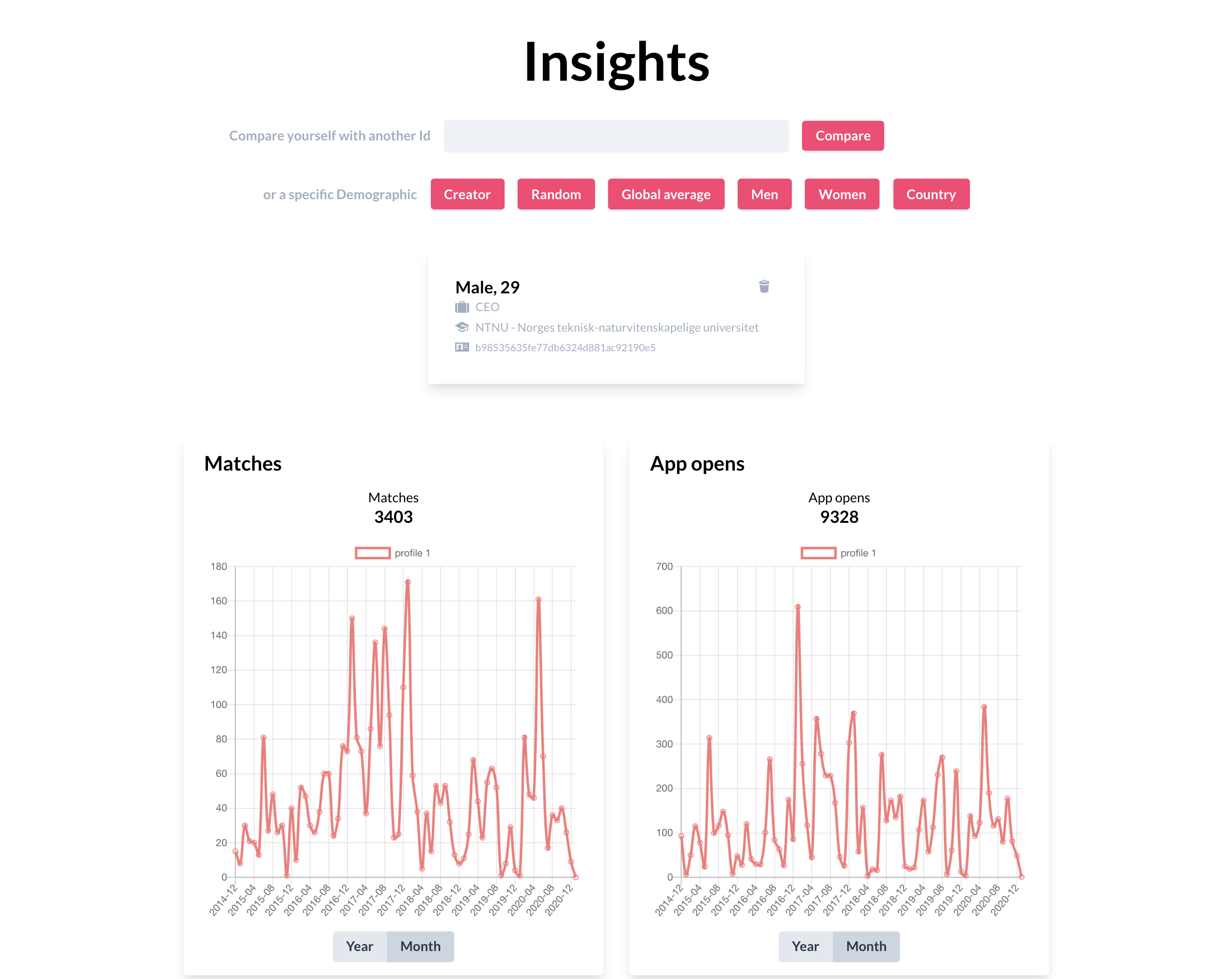 How it works
100% anonymous data visualization and comparison
The data file is NOT uploaded to a server, just used to extract your relevant, anonymous profile information.
Parse the Tinder data file
Extract anonymous data from the data.json file you get from Tinder
Submit your anonymized data
Upload the data and get additional insigths and metrics
Compare with others
Visualize your data against others, or against segments og gender and age
Live demo
Want to see the end result? Check out this live demo of a full profile
Ready to explore?
Upload your data today
How to request your data
Requesting your data is easy, but it is not automatic. You usually need to log into your providers account, fill out a form and wait up to 24 hours. Instructions below:
How to request your data
Tinder
Easy! Follow the instructions to request the data, wait 1-3 days and receive a link to download your personal tinder.json. Then come back here!
Bumble
This process is a bit more manual and time consuming. After you submit your data request it can take up to 30 days before you get a reply.
Hinge
In Hinge you start the data request inside the app. All the steps are outlined in their help article linked here.
Afraid you'll forget about Swipestats?
This email will not be affiliated with your Tinder data in any way
Swipestats on the web, newspapers, and science papers
Swipestats has already inspired numerous articles, from scientific to simply observant. Looking to write your own take on the data? Send us a message
Looking to create your own article or paper?
Get your own dataset with a Swipestats Data Request and receive access to 1000 anonymized profiles
Get your dataset today